Eric Akemnda
CHAIR, BOARD OF TRUSTEES, ERUDEF
Eric Akemnda holds a 1st degree from the University of Yaoundé, school of Education in 1980 and a MS in Biology from the University of Yaoundé, school of Education in 1982. Since integrating into the ranks of government in 1983, he has progressively moved from Teacher, Provincial Pedagogic Inspector, Divisional Delegate, and Provincial Delegation of Education to the National Director in charge of planning in 2006. Currently, he is the Technical Advisor No 2 in the Ministry of Education Yaoundé. He is a passionate lover of the environment and conservation. He joined ERuDeF in 1999 as one of the founding members.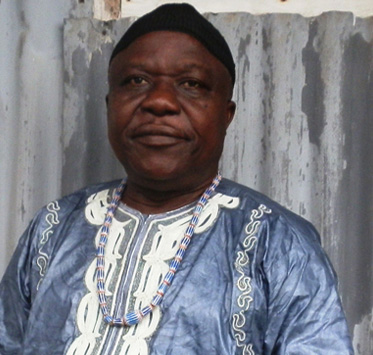 Ndi Nkemjinya
TREASURER, ERUDEF BOARD OF TRUSTEES
Ndi Nkemjinya holds a postgraduate diploma in legal administration from the Yaoundé School of Administration in 1980. Since then he has risen and reoccupied several position in judiciary department ranging from Court Registrar to Senior Court Registrar and Chief Court Registrar in 2010. He joined ERuDeF in 1999 as a founding member.
Lawrence Fonjie
ADMINISTRATIVE SECRETARY, ERUDEF BOARD OF TRUSTEES
Lawrence Fonjie holds a degree in history from the University of Yaoundé and a Master in Education from the same university, school of Education. Since joining the government Education administration in 1980, he has risen from a classroom teacher through a Provincial Inspector to the Sub Director in charge of Examination in 2010
Louis Nkembi
MEMBER, ERUDEF BOARD OF TRUSTEES
Founder and President/CEO of the Environment and Rural Development Foundation. Resource management economist with over 21 years of experience in conservation, rural development and community-based project development and management. Research and field experience areas include social aspects of biodiversity conservation, agroforestry development, anthropology, agricultural development, project development, planning, monitoring and evaluation, community-based forestry management, forestry governance and environmental policy, socio-economics and livelihood development, participatory methodologies, strategic planning, production and marketing economics, facilitation of workshops, protected area management, social forestry, on-farm diagnostic surveys, conservation management, conservation education, capacity building and institutional strengthening, administrative and financial management as well as climate change. Specialist in grants writing and fundraising.
Calistus Fonkem
MEMBER, ERUDEF BOARD OF TRUSTEES
Calistus Fonkem holds a degree in agronomy from the Bambili School of Agriculture and several Diplomas in agricultural research management. He joined the Agricultural Research Department in the 1980s and rose progressively to the position of senior Assistant Researcher before joining retirement in 2006. He is currently, the chief Executive of fonkem and fon Enterprise.
David Forchu
MEMBER, ERUDEF BOARD OF TRUSTEES
David Forchu holds a Diploma in Education in the 1970s, held several teaching position and retired in the 1990s as a school Administrator. He is currently the Chief Executive of the Forchu's Enterprise.
Lucia Nkembi
MEMBER, ERUDEF BOARD OF TRUSTEES
Lucia Nkembi holds a 1st & 2nd degrees from the University of Yaoundé, a Master degree in Education the University of Yaoundé, school of Education in 1996. She joined ERuDeF as a Head of Women's Programmes. She is currently a High School teacher.
Nicholas Nkemanteh
MEMBER, ERUDEF BOARD OF TRUSTEES
Prof. Januarius Asongu
MEMBER, ERUDEF BOARD OF TRUSTEES
Prof. Januarius Asongu holds a PhD in Business Management Rutherford College, USA in 1999. He has held several teaching position in the USA before launching the St. Monica University in Cameroon where he serves as the President and the Chief Executive. He is also an Adjunct Professor in the Rutherford College.
Arend de Haas
MEMBER, INTERNATIONAL BOARD OF TRUSTEES
Arend de Haas is a conservation ecologist with over 15 years of experience with wildlife and habitat conservation, ecotourism and sustainable community development projects. His research and field experience areas include primatology, ungulate ecology, nocturnal animals, laser altimetry, forest biodiversity and vegetation mapping in Africa, Asia and Europe. Currently he is involved in primate (Cross River gorillas, chimpanzees) conservation in Cameroon, forest elephant conservation (Cameroon, Congo), wildlife and forest conservation in Kenya and Tanzania. He provides training on non-profit management, communication, community based conservation and education to local partners, governments and NGOs, in Africa. He has a special interest in conservation-related research studies and applying geographic information systems and remote sensing to answer important questions and meet the many challenges facing our natural environment.
Meredith Ogilvie‐Thompson
MEMBER, INTERNATIONAL BOARD OF TRUSTEES
Born and raised in New York City, Meredith fell in love with Africa from an early age. After completing her studies in Political Science at Columbia University, she travelled across Tanzania and Kenya, spending time with leading scientists and beginning a lifelong commitment to conservation and community development in Africa. In 1991, Meredith returned to Africa where she worked as a journalist reporting on political, financial and environmental stories for Business Day in Johannesburg. During her years in South Africa, she was involved with various organisations that focused on rural development and wildlife management in and around natural resource extraction areas. Her conservation experience brought Meredith to Tusk Trust in 1999, initially as a member of the Appeals Committee in London, and later as Trustee and Executive Director of Tusk USA. She subsequently served as the Senior Managing Director for Africa at Aldwych Capital Partners, advising African sovereigns and businesses, and most recently as the Founder and CEO of Pangolin LLC, an Africa-focused strategic advisory. Meredith has worked in both documentary as well as feature film. She is a Founding Director of Big Life, a member of the Advisory Board of Stop Ivory, and a Fellow of the Royal Geographical Society in London. She continues to write as freelancer, her work appeared in the Financial Times, The Telegraph, Vogue, and Porter, among others.
Benjamin J. Addlestone
MEMBER, INTERNATIONAL BOARD OF TRUSTEES
Benjamin J. Addlestone has over 20 years of experience in biological and environmental sciences that includes domestic and international policy, field and laboratory exposure working with non-profits, for-profits, academia and government. He has experience in market-based solutions to promote sustainability including standards development, certification, stakeholder engagement, supply chain metrics, and research-based problem solving. His specific focus is on the forestry and agriculture arenas.