On the 24th of October 2020, 7 school children of Mother Francisca International Bilingual Academy, Kumba were killed by alleged militias fighting to restore the independence of Anglophone Cameroon. This brutal killing did not only signal a bad twist in the unfolding of the Anglophone crisis but an urgent need to end the crisis by all means. The Kumba Massacre is just one of the many brutal killings that have taken place in Anglophone Cameroon since the Anglophone Crisis started back in 2016.
Before the Kumba massacre, at least 13civilians were killed in a village called Ngarbuh, Northwest Region of Cameroon on the 14th of February 2020. After investigations, it was established that the killings were perpetrated by the Cameroon military. The casualties keep pilling, with no one having the slightest idea of when the crisis will end.
Following the Kumba Massacre, The Environment and Rural Development Foundation (ERuDeF) organized a press conference on the 30th of October 2020 to make her position known with regards to the Anglophone crisis in Cameroon. ERuDeF also used the occasion to sympathize with families of the victims of the brutal killings in Kumba. Black Friday campaigns was equally instituted by ERuDeF to mourn all the victims of the Anglophone crisis.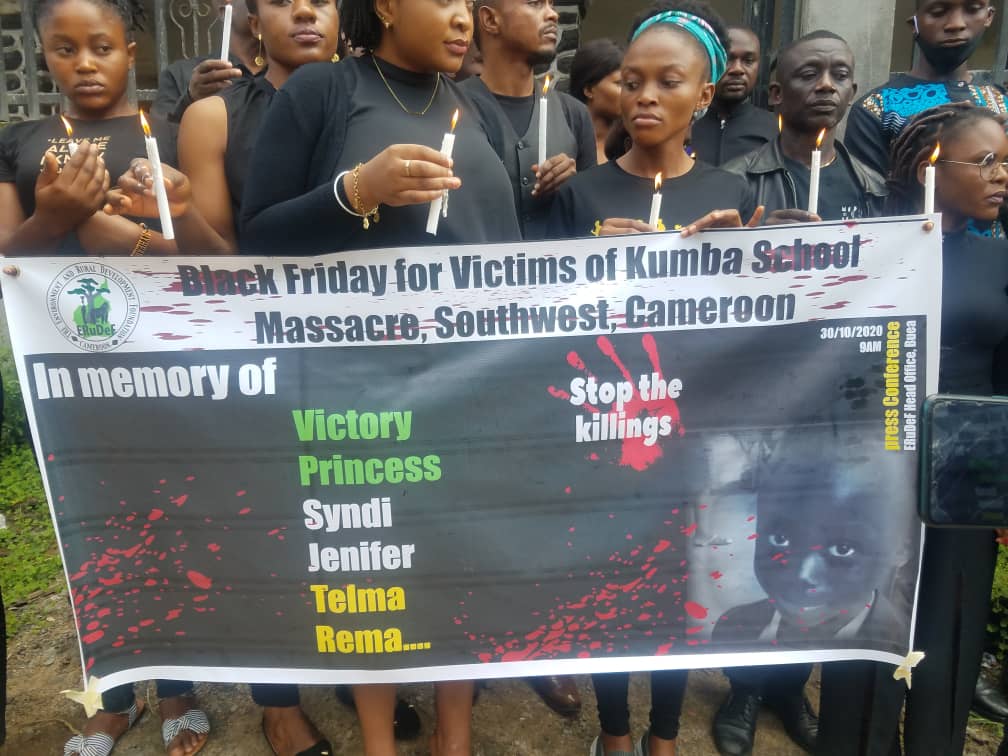 Civilians, especially women and children continue to pay the ultimate price as the 4-year long conflict continues to escalate. The UNHCR says there are over 60.000 Anglophone Cameroonians living in Nigeria as refugees. About 3000 have lost their lives and some have sort for refuge in bushes, living under horrible conditions. UNICEF reports that at least 600,000 children of school going age in Anglophone Cameroon are out of school as a result of the crisis. These figures are not only disturbing but make us to wonder what the future hold for these kids who are out of school as a result of a conflict they didn't even start.
The President/CEO of ERuDeF, Louis Nkembi is quoted as saying "I think this is the time for our leaders to stand up and say enough is enough; not by using a military solution, not by making speeches but by sitting on the table and talking with those who are involved" Indeed it is only through dialogue that the crisis rocking Anglophone Cameroon can die a natural death.
We at ERuDeF are very concerned given the consequences this crisis has on the biodiversity of Anglophone Cameroon. Since the outbreak of the Anglophone Crisis in Cameroon, key biodiversity hotspots and protected areas have been besieged by both the Anglophone Separatist fighters and regular state forces. It is estimated that over 14 biodiversity hotspots and protected areas have been greatly affected with the day to day worsening of the crisis. Affected areas range from the Kimbi Fungom National Park, Kom-Wum Reserve, Oku Plantlife Sanctuary, Kwagwane Gorilla Sanctuary through the Tofala Hills Wildlife Sanctuary, Njoajwi- Fotabong III Essoh Attah Wildlife Sanctuary, Banya-Mbo Wildlife Sanctuary, to the Korup National Park and Mt. Cameroon National Park. Beside the armed groups and the regular state forces, over 35000 IDPs have found refuge inside these secured biodiversity areas thus forcing the state rangers to relocate to the urban areas
With the unfortunate unfolding of this rather prolonged crisis, we at ERuDeF calls the government of Cameroon to call for a more inclusive dialogue to end the crisis once and for all. This call does not however undermine the efforts made by the government of Cameroon to end the crisis. We reiterate that the military solution will never end the crisis. Killings, kidnappings, torture only helps to escalate the crisis. #endthekidnappings #endthekillings #endthewar