The government of Cameroon through the Prime Minister's office has regretted the lukewarm attitude of Cameroonians towards the COVID-19 killer virus irrespective of the measures put in place, by the government of Cameroon to curb the spread of the virus. The measures prescribed by the Prime Minister of Cameroon, Joseph Dion Ngute include the closure of land, sea, and air borders of Cameroon, suspension of schools, forbidding the gathering of more than 50 persons, closure of bars and restaurants as from 6pm and the prescription of stringent personal sanitation measures.
As it stands, Cameroon have registered about 66 cases of coronavirus, distributed as follows, 51 cases in Yaounde, 12 in Douala and 3 in Baffoussam. There are fears the virus may spread further if the measures put in place, except for the closure of schools are not respected to the later. Most bars, especially those far from the main streets are still opened, the gathering of more than 50 persons is still very much alive and personal hygiene is still a cause for concern.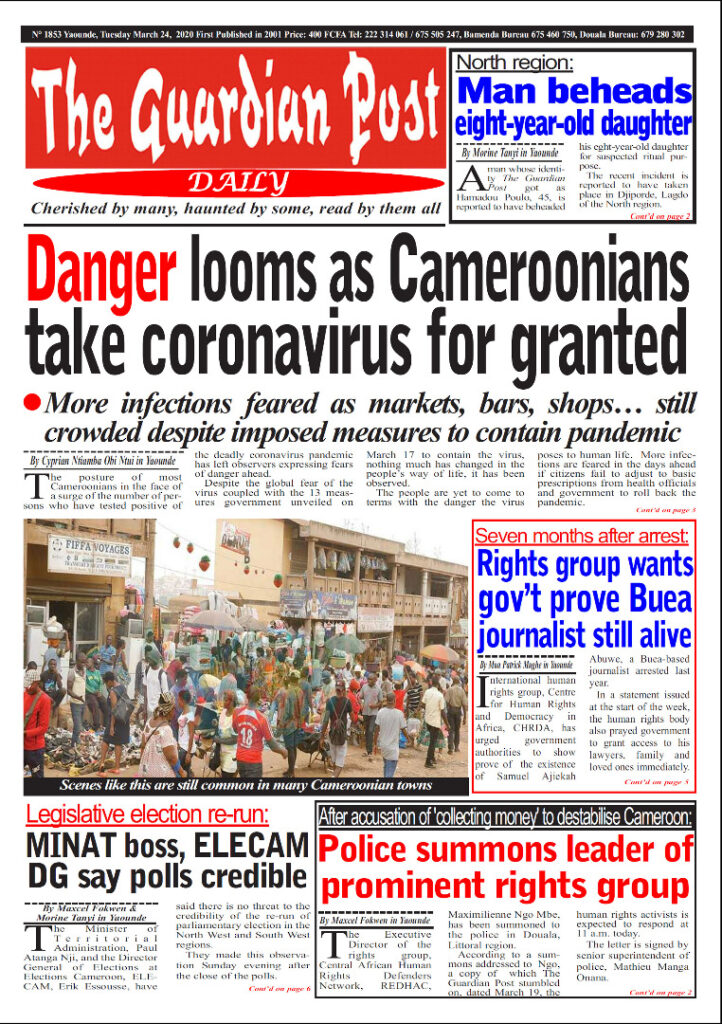 The government of Cameroon, as part of the ways to enforce the measures to limit the spread of coronavirus has prescribed up to 3 months of imprisonment to defaulters of safety rules prescribed by the government.
The Prime Minister of Cameroon has equally debunked rumors propagated on social media that there will be a complete shutdown of the nation in response to the geometric spread of the virus. PM, Joseph Dion Ngute is quoted as saying in CRTV prime time news as; "…No decision to confine the population totally or partially has been prescribed by the head of state so far…nevertheless is essential to limit the gatherings and nonessential movement and to respect the instructions already given", the pm quipped.
Cameroon's minister of Public Health, Dr. Manaouda Malachie equally confirmed 13 of the 65 passengers of the flight that entered Cameroon on the 17 of March 2020 have been tested positive of Coronavirus. He further called on Cameroonians to remain vigilant.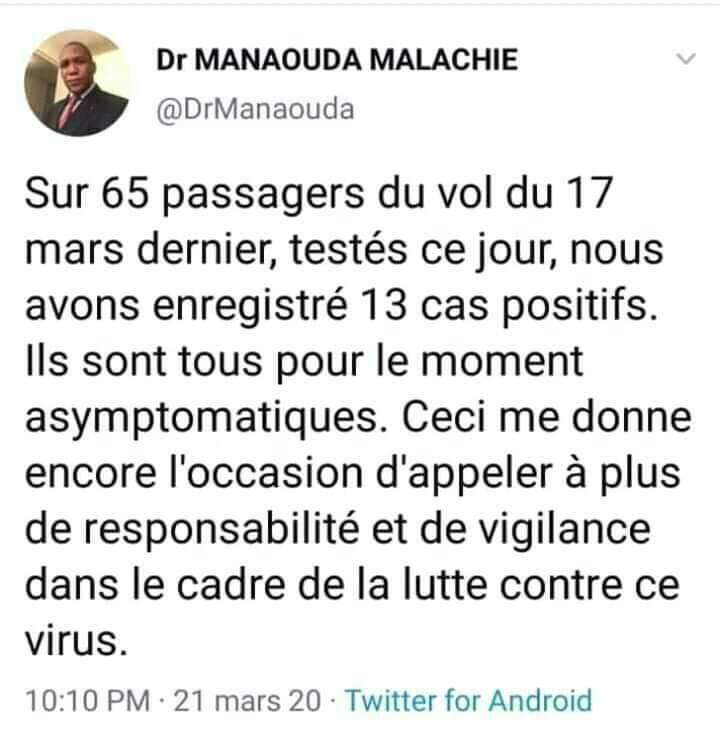 There are equally unconfirmed reports that those quarantined are bribing their ways out in Cameroon. If this allegation is true, Cameroon maybe the next hotspot of the deadly virus in Africa.