Ebong Lionel and Shuimo Trust
The use of robust ecological data to make evidence-based management decisions for highly threatened species is often limited by data availability, and local ecological knowledge (LEK). The participation of communities living in high conservation value areas is increasingly valued in conservation science and practice, potentially producing multiple positive impacts on both biodiversity and local people. The Tofala Hills Wildlife Sanctuary (THWS) is rich in fauna species especially great apes, like the Nigeria-Cameroon Chimps and the Cross River Gorilla, yet geographically-explicit knowledge regarding their status, threats, and distribution across habitats are deficient. The diversity and threats of the Lebialem Highlands and the Tofala, in particular, were confirmed by the Community Rangers, through the ERuDeF Community Rangers Support project where they are currently serving as Citizen Scientists
According to the leader of the Community Rangers, Nkemkedjeu Andreas, the THWS is endowed with several species of animals which they have found interest in ensuring their conservation through the ERuDeF Community Rangers Support Project. According to him, the THWS has numerous species including Duikers, Giant Pangolins, the Cross River Gorilla, Nigeria Cameroon Chimpanzees, as well as different bird species. He asserted that their knowledge about species diversity was still limited, not until their involvement in the Community Rangers' services as Citizen Scientists.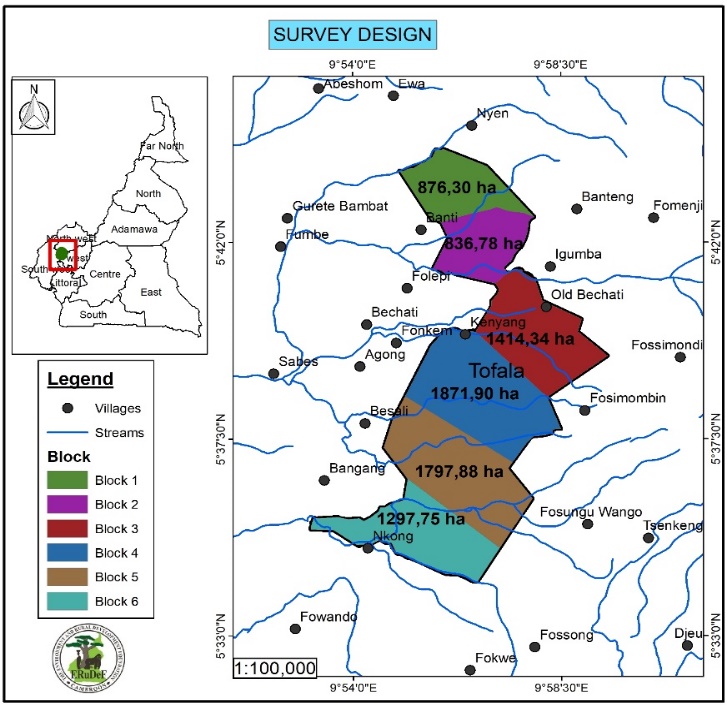 ERuDeF's efforts of training and integrating disengaged hunters as Community Rangers (CRs) with good Traditional Ecological Knowledge in the conservation of wildlife and wild habitats in the Tofala Hills Wildlife Sanctuary of the Lebialem highlands has proven to be a positive step in fostering citizen science as locals have taken the lead in conservation. This initiative has also built the capacity of locals as ambassadors to safeguard the biodiversity of their community sustainably through a series of Community Rangers Training Courses.
Biomonitoring and conservation of great apes and other species in Tofala by Community Rangers (CRs) have been a reliable source of biomonitoring data and a positive move in the conservation efforts of the Landscape. This method of species survey has proven to be a positive multiplier impact on the species welfare, the Community Rangers' skills and capacity, and also a means for local livelihood sustainability.Forchu Celine, a female Citizen Scientist explained that before serving as a CR, she was into the gathering of forest products and that the CRs support project is a breakthrough in her life amid the challenges and hardships induced by the sociopolitical unrest in the Country. "Before I was trained as a Community Ranger, I was into the gathering of 'njangsang', 'eru' and 'bush mangoes'. The Community Rangers Support Project has helped to improve my living condition. I can now afford my basic needs and those of my children with relative ease. I am happy to be taking part in the conservation the wildlife."
According to Nong Jacob, the eldest of the Community Rangers and the longest serving Citizen Scientist revealed that he was a serial hunter but is now a devoted community ranger. "When I was a hunter, I killed monkeys, gorillas, chimps. After I was called up by ERuDeF, I was trained and made to understand the value of animals.This encouraged me to disengage as a hunter and to fully get involved as a community Ranger.
The Environment and Rural Development Foundation upholds Citizen Science as a means of ensuring public participation in scientific research. Across the Lebialem landscape, Community Rangers (CRs) gather a wide range of information vital to protecting and improving our environment and to expanding knowledge of the world around us. ERuDeF's CRs Support Project supported by ARCUS Foundation aims to ensure that individuals and communities in Lebialem have the opportunity to develop skills and confidence to understand their local environment via Citizen Science; in this case, referred to as Community Rangers. ERuDeF has engaged in a series of training courses to boast the CRs biomonitoring skills.
During the February 2022 Community Rangers Training Course organized by ERuDeF, Dr Nchangi, a WCS conservation researcher indicated that Citizen Science is increasingly recognized and valued in community-led conservation initiatives. He indicated that it is seen as a way to support researchers to better explore different dimensions of indigenous peoples and local communities' well-being, customary governance, ecological knowledge, natural resource use, and other types of interaction between people and their environment in scientific and robust ways. Today, citizen science applications cover a wide range of contexts, including the study of marine and coastal systems, entomology and mammals to mention but a few.
Contributions of Community Rangers to Research at ERuDeF.
100% of all the species and habitat records collected in the Lebialem Highlands, particularly the Tofala Hill Wildlife Sanctuary (THWS), since 2018 came from Community Rangers acting as Citizen Scientists. Even though the CRs have contributed immensely to the monitoring and recording of biological information including fauna species like chimpanzees, gorillas, pangolins, duikers, and red river hog. Different anthropogenic activities and threats were also recorded, there have been two crucial discoveries of new species which they made during the December 2021 biomonitoring period. They are;
a. A monkey species; Bonobos monkey (Bonobos Satanas).
b. A bird species; white–crested hornbill (Horizocerus albocristatus)
The data collected by community rangers are essential for understanding our environment and making decisions about how to protect and improve it.
Observed benefits of Community rangers as Citizen Scientists
Citizen Science is much more than just science. Getting involved is fun, helps develop skills and connections with others. It improves health and wellbeing and helps us all feel more connected to the environment around us. It also enables communities to be more active outdoors, bring people of different ages together; work together around a central activity, locally focused projects, develop and share local skills and knowledge, work together to tackle environmental or social justice issues, gather knowledge about the environment to inform community-based environmental projects, gather knowledge about the environment to support scientific research and environmental management decisions. According to Nong Jacob, being a community ranger has helped him to stay physically fit. "I trek long distances and that makes me physically fit all the time. I am very happy to serve as a community ranger"
As Cameroon's leading NGO, with the vision to conserve the rainforest and sustain livelihoods, ERuDeF has adopted different initiatives to ensure an impactful and sustainable conservation action across its landscapes.
It is clear that there exists a substantial knowledge and information gap on the current status, threats, habitat distribution, and natural history of Nigeria-Cameroon Chimps and Cross River Gorilla and other wildlife species within the Lebialem and particularly in the THWS. Through the CRs work as Citizen Scientists in biomonitoring with help of their TEK, clarification of baseline information and natural history of the focal species is assured to develop properly informed management decisions at both the national and global level. The Community Rangers Support Project will therefore continue to contribute to efforts to furnish ERuDeF and Ministry of Forestry and Wildlife (MINFOF) as well as partners with information about species diversity and distribution for more informed decision-making to help protect the species.