Acacia catechu, a multipurpose tree, is a leguminous species promoted by the Department of Agriculture at ERuDeF. As part of the implementation of the Forest Gardens Programme in Cameroon, A. catechu seeds are germinated in forest gardens nurseries, then the seedlings are transplanted in forest gardens by ERuDeF technicians, who monitor them in the targeted landscapes.
In the village of Bakassa in the Haut Nkam, Western Cameroon, farmers develop their forest gardens by planting A. catechu trees as live fences. Between rows of A. catechu they plant annual crops like corn, beans etc. The choice of crops depend on the growing season and the demands of the market.
"Before the introduction of A. catechu in my village by ERuDeF, I used to travel long distances to get stakes for climbing crops I cultivate on my farm. Now that A. catechu trees surround my farm, I don't go any where again. Besides A. catechu trees that surrounds also act a live fence" Nitcheu Jean said with a broad smile on his face.
The management of A. catechu trees in the forest gardens depends on harvest time and needs space. For instance, after harvesting annual crops like corn, beans, etc., the A. catechu treesare left behind to continue growing. During the next planting season, A. catechu branches are pruned, and the leaves placed on the soil to improve organic matter, moisture and overall fertility. The dried branches serve as stakes for yams, and climbing bean. They are also used as firewood.
Miss Tchagoue Jeanne has been actively involved in the forest gardens programme  sinc 2019. "I no longer need to go to the forest to find stakes for my climbing crops, the stems of A. catechu provide us with more than enough". Tchagoue Jeanne remarked with a a lot of satisfaction.
The choice of multipurpose tree species to plant in the Forest Gardens is therefore crucial to the adoption of agroforestry techniques by rural populations. 
A. catechu trees are useful to many other farmers in Bakassa village and today they cannot be separated from them.
"I am already making  A. catechu nursery  for myself to fill in the empty spaces in my Forest Garden, because, A. catechu tree is very useful." Tchagoue Jeanne added.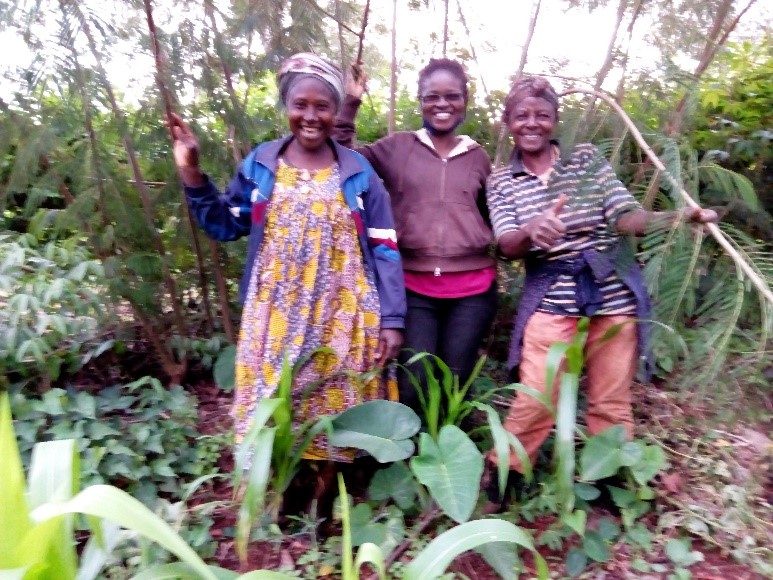 Discover how Tchuenna Jeanne is using acacia to cultivate climbing beans.
Climbing beans are tall vinyl plants that grow upwards off the ground by twisting round any support that the vines can find. Prized for their tender, fleshy pods, the two most popular types are runner beans and French beans.
These beans are bigger in size, have more pods per plants, resistant to disease and have a ready market in and out of Cameroon. Climbing beans have been proven to be the best type to grow for both domestic and commercial purposes. These are the same as the usual beans most of us know, only that they grow by climbing onto anything that supports them.
Acacia trees when mature, the branches are cut and used for several purposes such as wood. Tchueana Jeanne, a forest garden farmer in Bakassa, Haut-Nkam Division, uses these branches as support to grow climbing beans in her forest garden. Also, she uses maize to prop the climbing beans as an intercrop. She grows climbing beans for domestic and commercial purposes. "I make a lot of profit from the sale of these climbing beans especially when the price of a bucket of beans rises to about FCFA12000", Jeanne said.
According to Dr Michael Ugen, a Principal Research Officer at National Crops Resources Research Institute (NaCRRI) at Namulonge, when given adequate attention, climbing beans yield twice as much as "bush beans". Also, they bear many pods per plant than the other types. "Climbing beans can yield 2,500 to 3,500 kilograms per hectare which is much more than the "bush beans". This is because, climbing beans when well supported to climb as high as they can, bear more pods per plant which is not the case with bush beans," he explained.
Climbing beans also mature faster under a favorable climate, have attractive flowers, are tasty, drop leaves when mature which improves on soil fertility and have a larger bean size.
Jeanne Tchueana encourages other farmers by saying one of the ways to reap big from climbing beans, is to ensure the land on which they are to be grown is well prepared with no weeds, has good amount of water and is fertile. Not only that. The farmers should ensure that they have enough support for the beans because they yield more when they have something to climb on. In the absence of sticks, they can cut sticks from mature acacia trees and use as support for the climbing beans to grow on.